Is the whistleblower unit subject to confidentiality?
All persons appointed to receive and follow up on reports are subject to confidentiality. This is stated in law and follows from § 25 of the Whistleblower Act.
Will the whistleblower be notified via e.g. email when there is news in the case?
A whistleblower will never be contacted via regular mail from the portal. This is because it is part of the security of the whistleblower that no activity in connection with the whistleblower portal can be tracked through automated standard messages in connection with new incidents in the secure mailbox. In connection with the report, a secure mailbox is created, from which we encourage that all contact with the whistleblower should take place, as a secure mailbox cannot be traced. Our portal is not set up to automatically send emails to a reporter, nor will a reporter receive a notification when there is news in the secure mailbox. You can read more about the secure mailbox here.
Please note that it follows from the legislation that a whistleblower must receive feedback on a report within 3 months after the report has been received.
Will the investigator/screener be notified when there is a report or a new comment from the whistleblower?
An investigator / screener receives an email if a new report appears in the portal and when a comment is written from the whistleblower via the secure mailbox. In the email, the content of the new report will not appear, just as a new comment will not be previewed by email and the report will only be referred to through the time of its creation.
How do I log in to the whistleblower portal?
If you have been granted an administrator, screener, or investigator access, you must access the portal via the link that was assigned during your creation in the portal. The link will be "http://whistleblower.________.dk". The blank space will be the name of your organization.
To log in, you'll need your email address and the code you selected to create your account. The whistleblower portal uses a multifactor authentication, which is why you will receive a one-time code once you have entered your email and code. This must be entered in the page you are directed to after the first login factor. A two-factor login access ensures a high level of security.
What do I do if I forget my password for the portal?
When you need to log in with your email and your password, there will be a line at the bottom that says, "Forgotten password?". Here you need to click if you have forgotten your password. By clicking here, you will be directed to a page where you need to enter your mail. Once you have entered your email, you will receive a secure reset password link.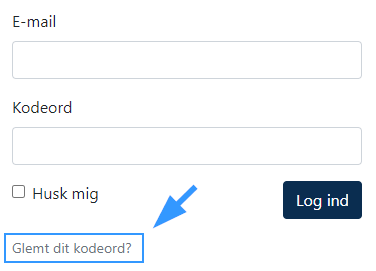 GapSolutions A/S
Uraniavej 6, 1.
DK-8700 Horsens
Sales & administration
(+45) 8844 0808

Helpline & consultants
(+45) 2199 0808