Secure communication with the whistleblower
Secure communication with the whistleblower
If wanting to contact the whistleblower with follow-up or in-depth questions regarding the incident report, it's done from the portal in the section "comments (external)", which is shown in the picture below. The comments written here, will be sent via the secure mailbox to the whistleblower. A secure mailbox is a mailbox that cannot be traced.
Once a whistleblower has submitted an incident report, they are assigned the link to the secure mailbox. The secure mailbox is accessed by the whistleblower through a link and a code of the whistleblower's choice. You can read about the secure mailbox for the whistleblower here.
The whistleblower unit will not access the secure mailbox like the whistleblower but communicates through the secure mailbox via the whistleblower portal.
When a message is written in the secure mailbox from the whistleblower, those who the case has been released to will receive an email informing them that there is something new in the item "comments (external)".
As described in the guidance on incidents here, the whistleblower unit obtains access to communication with the whistleblower through the secure mailbox from "incident overview" (1), in the item "Comments (External)" (2).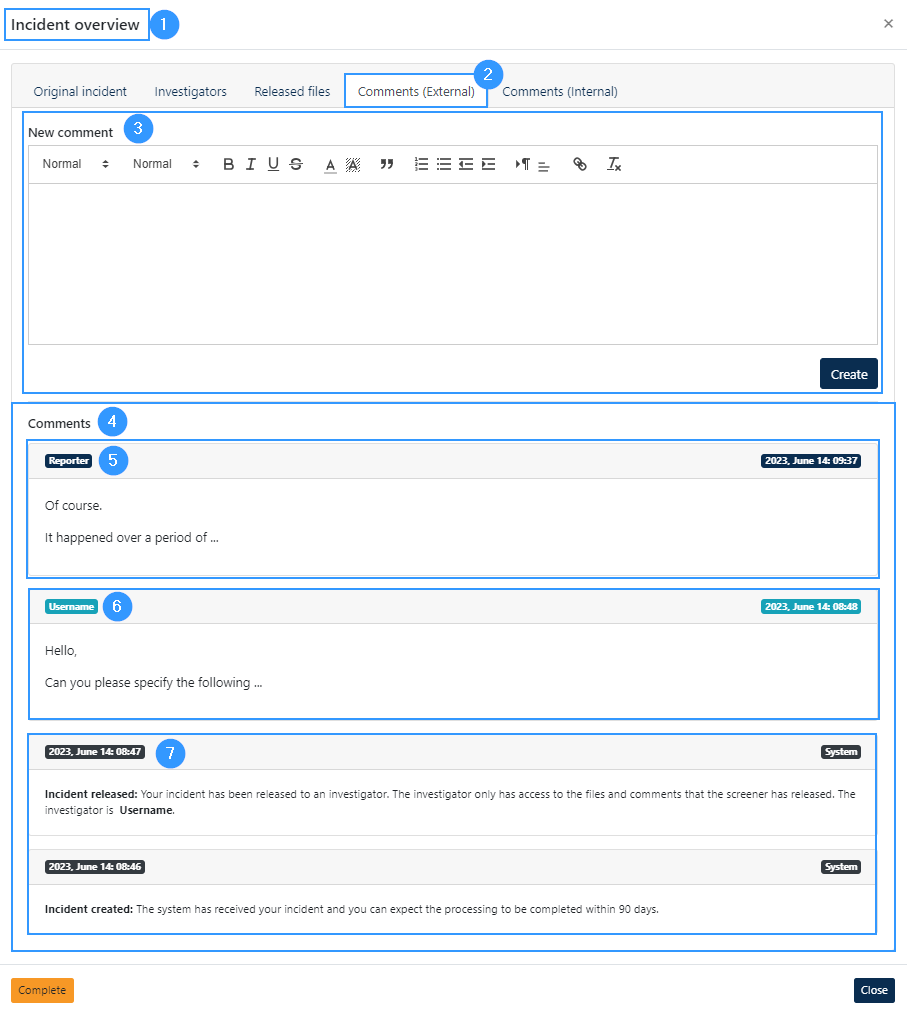 In this field, the whistleblower unit writes the comment, which they want to send to the whistleblower. This can be, for example, follow-up and in-depth questions. When you want to send the comment to the whistleblower via the secure mailbox, click on "create" in the right corner.
Here you will find an overview of all comments created in the secure mailbox.
This is an example of a message from the whistleblower in the secure mailbox. When a whistleblower makes a comment through the secure mailbox, those in the unit who have been assigned the incident report will receive an email. The email will inform about a new comment and will refer to which incident by informing about the time the incident report was submitted.
Here is an example of a comment created by someone in the whistleblower unit, which has been sent to the whistleblower via secure mailbox. A whistleblower does not receive information that there is news in this to ensure that it cannot be traced. Therefore, a whistleblower must access the secure mailbox by own initiative to see if there is anything new.
These incident reports are automatic comments created in connection with incidents related to the report.
GapSolutions A/S
Uraniavej 6, 1.
DK-8700 Horsens
Sales & administration
(+45) 8844 0808

Helpline & consultants
(+45) 2199 0808