The data controller is the company/legal entity that decides the purpose, scope, and methods of processing personal data.

3) With this feature you can delete a data controller
In this form, by some fields there will be this sign: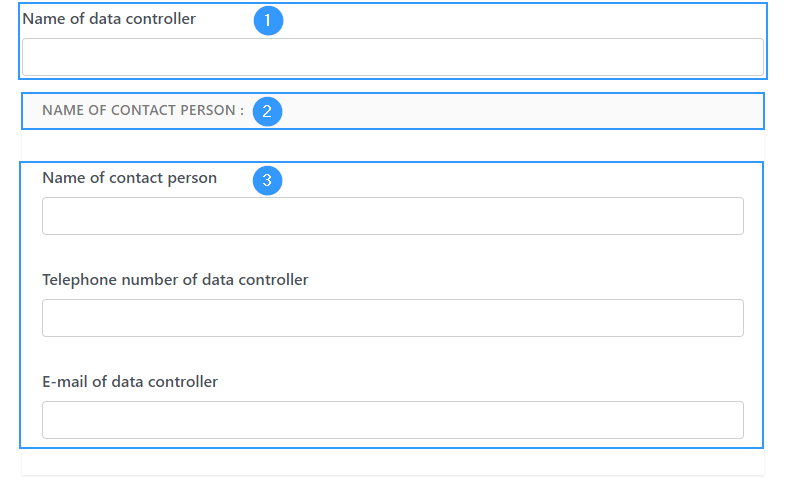 Here you enter the name of the data controller.
If a contact is available, click here to open the fields in section 3.
Fill in the details, if any, on a contact person.
Please notice,
If you have many data controllers who all have the same processing, it may be advantageous to refer to a description in a policy, data processing agreement or other documentation.
The fields after that are not mandatory for your article 30 listing, but they are good to keep track of in any case.

Type: By clicking on this field, a menu bar will open. Here you can choose whether your company is a data processor or a sub-processor for the data controller.
In this field, you can enter the internal responsible of the data controller.
It is possible to describe the person internally responsible in section 2, or turn on the function in this section, which will open a menu bar with the account's users instead. Which of the two options you choose is what is convenient for you.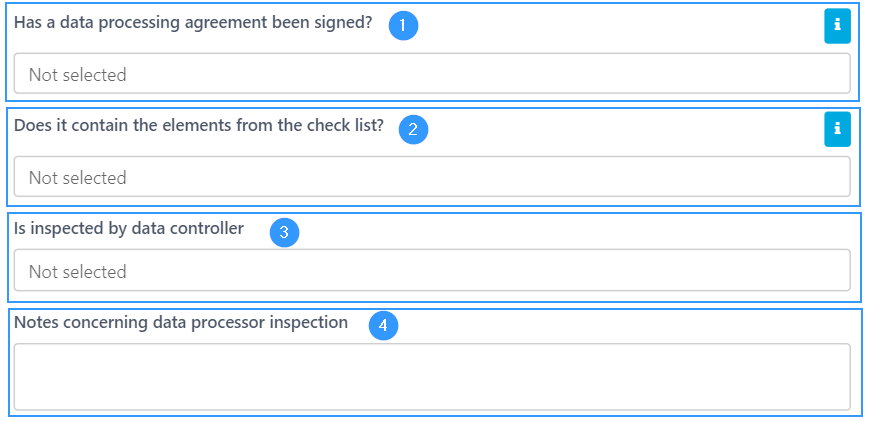 Has a data processing agreement been signed? You can state here whether there is a signed / concluded data processing agreement with the data controller.
Does it contain the element from the checklist? Both the data controller and the data processor are responsible for ensuring that the data processing agreement that regulates their circumstances complies with the legislation. Here you can indicate whether this is the case. You can find the checklist by clicking here or under 'templates' in the menu bar on the left side of the portal.
Is inspected by data controller: In this field, you can indicate with "yes", "no" or "unknown" whether the data controller is inspected. How and when a data processor is inspected is up to the data controller.
Notes concerning data processor inspection: Here you can enter notes for the data processor inspection.
File
At the bottom of the form, you can attach relevant files by tapping "attachments", where the option to add files will open.
If you tap the cross in the upper right corner, the form will automatically open a window asking if you want to discard changes. By pressing ok, you close the process without saving your changes. If you want to save the changes, press cancel in this window and close the document at the bottom of the form in the right corner.
GapSolutions A/S
Uraniavej 6, 1.
DK-8700 Horsens
Sales & administration
(+45) 8844 0808

Helpline & consultants
(+45) 2199 0808