Secure mailbox
A secure mailbox opens with the link the whistleblower has received when an incident report has been submitted. To access the secure mailbox, the code created when the incident report was submitted must be used.
Here is an example of what the secure mailbox looks like when logged in. Please notice that the comments are only an example and may not be similar to the comments in other secure mailboxes: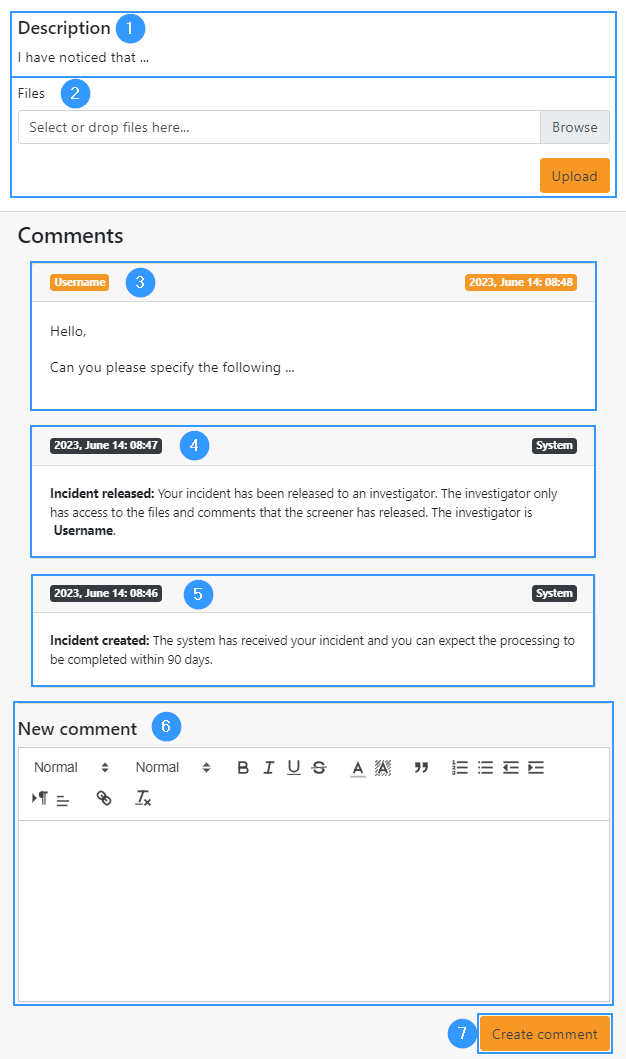 This is the description of the original incident report.
Here it is possible to add new files. This can be useful in the case that the whistleblower forgot to add some, in the original report or because the whistleblower has come into possession of additional documentation.
This is a message directly from someone in the whistleblower unit. It is possible for the whistleblower to see the name of the person in the whistleblower unit that is assigned the case and writes in the secure mailbox. This gives the whistleblower the assurance that a incident report has not ended up in the hands of someone to whom the incident relates. The name will appear where the picture says "username".
The system automatically notifies when the report has been released to investigator(s). The whistleblower is also informed of who has been assigned as an investigator of the incident report.
This message is a standard message that is automatically sent out when a report has reached the whistleblower unit. This gives the whistleblower an assurance that the inquiry has not been lost.
If the whistleblower wants to write a message to the whistleblower unit, it's done in this field. It could be information about new observations or something else relevant to the case. It can also be used to answer questions that the unit may have sent over the secure mailbox, as illustrated in the example here.
Once a comment has been written, this icon is to be clicked to send the comment.
Please notice,
A whistleblower does not receive an email when there is something new in the secure mailbox. This is because the company should not be able to trace who has submitted the report.
Conversely, the whistleblower unit receives an email when there is news in the secure mailbox, if the report has been assigned and released.
GapSolutions A/S
Uraniavej 6, 1.
DK-8700 Horsens
Sales & administration
(+45) 8844 0808

Helpline & consultants
(+45) 2199 0808